Alex, an eighth grader in Charlottesville, VA recently spent the week shadowing members of the MBDC team. We sat down to ask her about how her time here shaped her way of thinking about sustainability and design.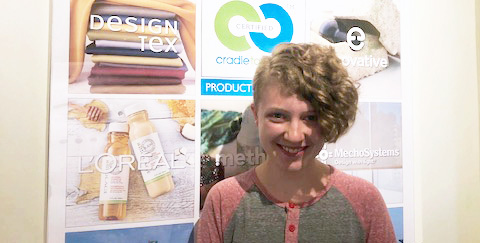 To start off, what kind of things have you been experiencing this week?
I've been working a lot on just learning about MBDC and Cradle to Cradle Design™ and seeing what I can do and what businesses have been doing to make a difference and it's really inspiring. I've also been doing a lot of research on recycling and the Circular Economy to figure out the basics of it because I didn't really know — well I knew about recycling — but I didn't know about the circular and linear economy so much. It's been a lot of information to learn but it's really cool and I've really enjoyed learning it so far. 
What interested you in doing this week-long mentorship?
I'm more into the environmental aspect, especially renewable energy and material reutilization — those two topics are the fields I'm most interested in. So it's definitely an environmental draw for me but I definitely love learning about science as well. For me it's the hands-on experience of learning what I can do and what other people are doing. 
Before your internship, did you know anything about Cradle to Cradle®?
I really didn't know anything about this at all and it surprised me. This just seems like such a big deal and it's a really neat thing. When I leave I'm definitely going to try to tell everyone that I know about it because it's something that there needs to be more awareness around. 
How do you feel about what you've learned this week compared to the environmental education you receive at school?
I actually learn a lot about stuff like that at school, but I didn't know so much about, well a specific example is, I didn't know anything about clothing and what has to go into clothing to make it environmentally friendly and that was so shocking to me. I had never thought about it before. 
You've gotten to see a significant collection of Cradle to Cradle Certified™ products. Which ones have you found the most interesting?
Steelcase was really interesting to me because that's the one where you can disassemble it and it has symbols of recycling on it that people know. It helps everyone know what to do with them after they're done using them. Method I also thought was really cool, especially learning the chemistry of soap and other products like that — L'Oreal too. 
Mostly the products have been cool, but I've also been learning about the conferences and what people do there so more like the atmosphere and communities as a whole. 
Do you see yourself continuing to be involved in sustainability?
Definitely, that's pretty much all I'm interested in. After this week it's definitely something I'm interested in working in for the future. I also love photography so one thing I've always wanted to do was travel and photograph things and teach people about the environmental issues through photography. I also love writing. 
What are your favorite parts of your week so far?
One thing I wrote in my school report was that you guys are really professional, but it's also such a bright and fun and great environment to work in. I feel like so much of a difference is being made here while also people are having fun doing what they love.
Does anything you learned this week really stick out?
Just that everyone is doing their part here, like a lot more people than I thought are working toward this. I mean, ugh, there's so much progress to be made in the world, how are we going to do this? But then you realize the amount of people who are trying to make a difference. 
One thing I'm taking away from this internship, definitely, is things that I can do that I never thought about. I'm surprised by how much I can do to make a difference and I'm hoping to start doing more work for the environment after I leave.

Interested in learning more about Cradle to Cradle Design™ for the Circular Economy? Contact us!