History of Collaboration
Method has been committed to the belief that products should be created in ways that are beneficial to people, the world, and the future of business. The company adopted Cradle to Cradle® early on because of its valuable framework and independent, third-party standard. As a long-term partner of MBDC, over the years Method has aimed to create products that were not only "less bad" for humans and their environment, but were also beneficial, or "more good", for people and the world they inhabit. The Cradle to Cradle Design Framework provided the most comprehensive environmental guideline for designing safe and healthy products that the Method team had encountered. Today 92% of the company's product lines are Cradle to Cradle Certified™ and 100% of its laundry and personal care products are certified under the rigorous standard.
Recent Announcements
MBDC is excited to announce and celebrate two major accomplishments for Method in 2017: the world's first Cradle to Cradle Certified dryer sheets and a new hand wash formula that has achieved PLATINUM level for Material Health, a first for the company's portfolio! Both product announcements will serve as a launch pad for taking Method's products to the next level in their quest to go beyond sustainability.
Results
Today, 92% of Method's product line is Cradle to Cradle Certified, and 100% of their everyday line of cleaning, laundry and personal care is Cradle to Cradle Certified.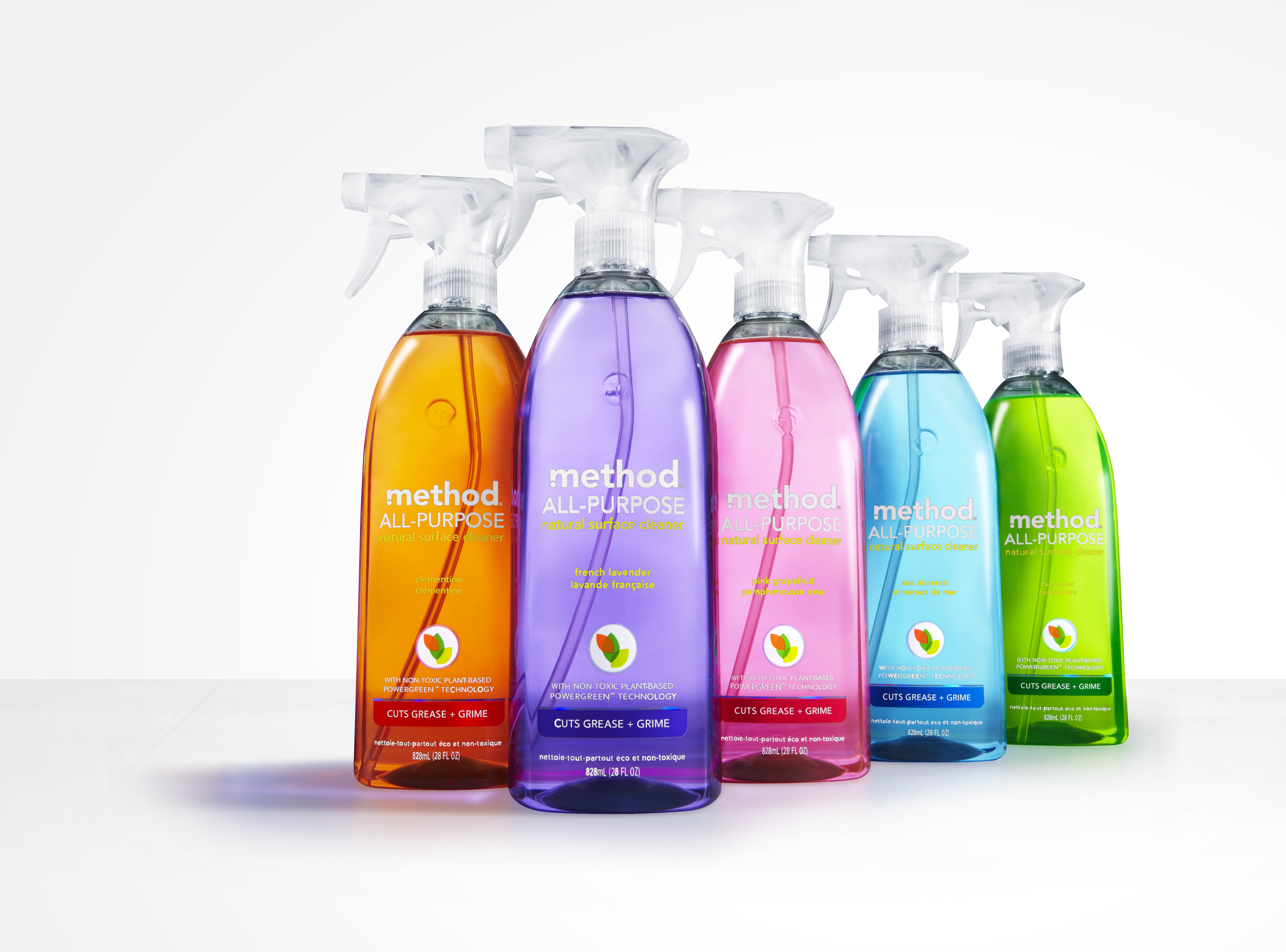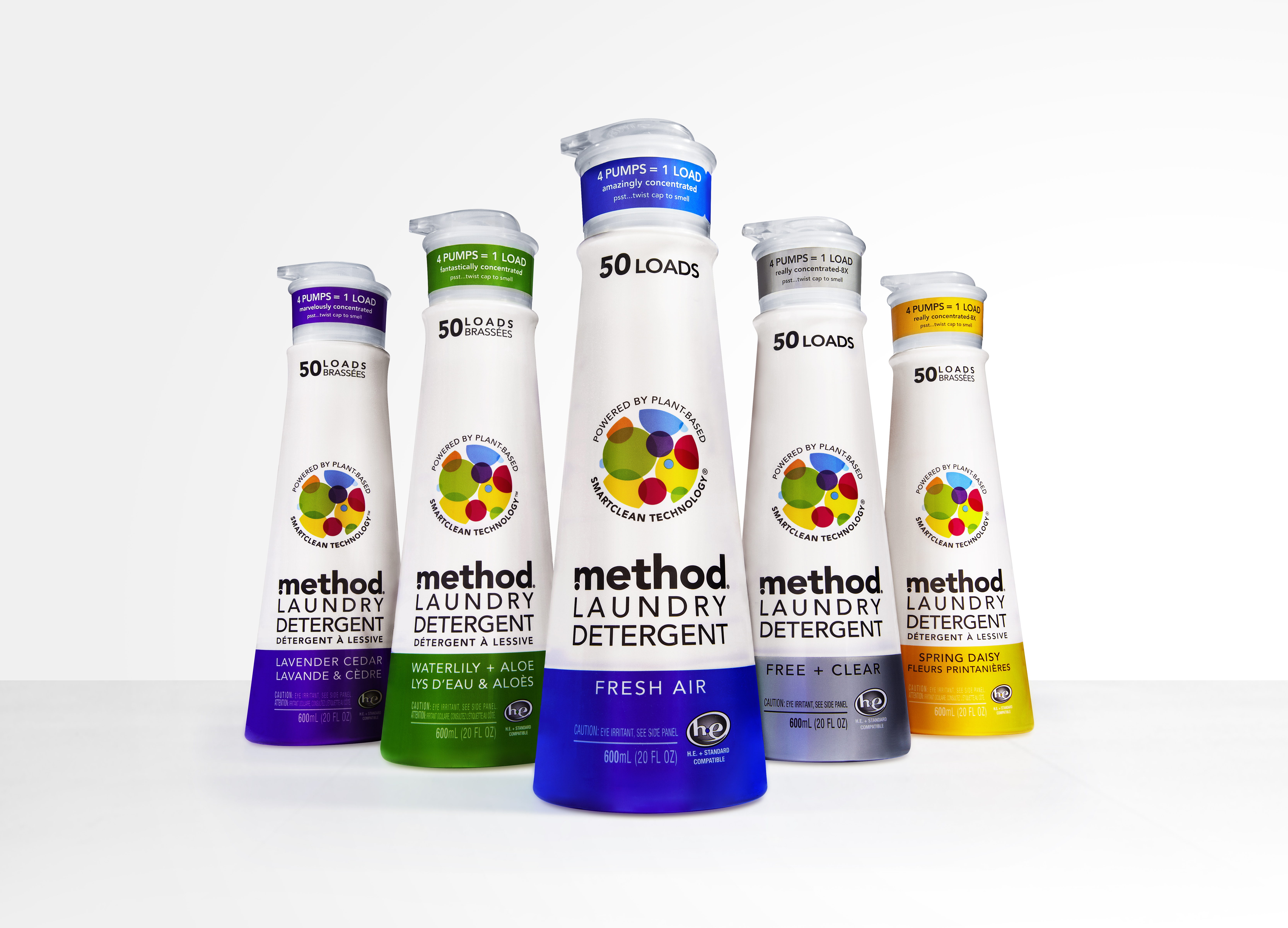 Case Study 1: Method's reformulated kitchen hand wash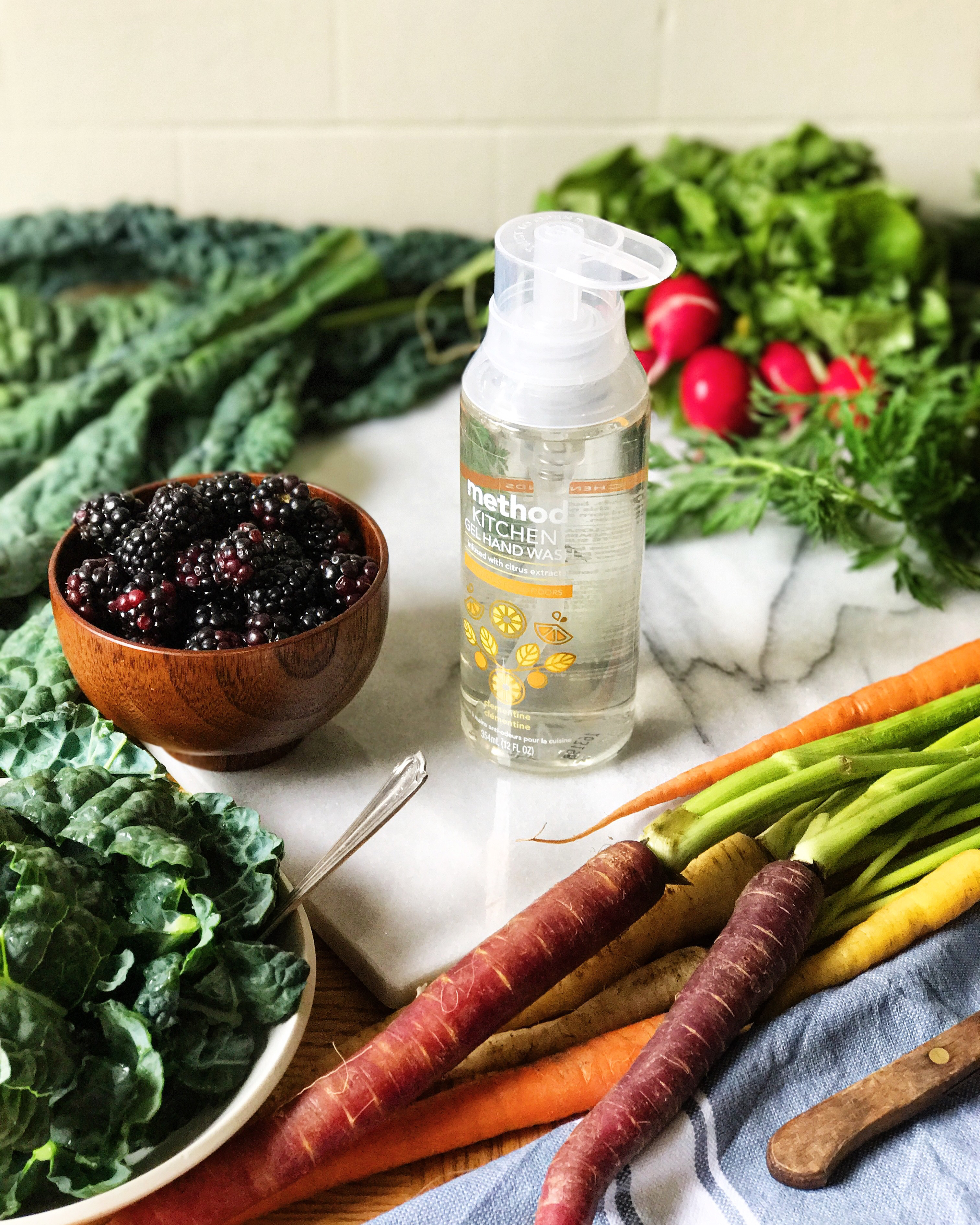 About the Process
Over the years MBDC has assessed and helped to optimize Method's gel hand wash, foam hand wash [SILVER Certified and made at the South Soapbox, designed by William McDonough + Partners], and their kitchen hand wash. With each optimization, MBDC visits Method's manufacturing facilities or contract manufacturers to assess and verify the products' production line, following the Cradle to Cradle criteria.
Method's reformulated kitchen hand wash has now reached PLATINUM level for Material Health. This is the highest level possible, and combined with improvements in all categories, the overall rating for the product moved from SILVER to GOLD. Dedicated to constantly improving their products and their processes, a major focus for the team during the two year period leading up to recertification was finding an alternative for an X-assessed preservative – the last ingredient keeping them at a SILVER level for Material Health. In May, 2017, Method and MBDC were very excited to announce that they had achieved this goal.
What's next?
Method is currently in a testing phase with the intention of incorporating the new preservative formula in all their hand washes. They are also investigating renewably sourced fragrances.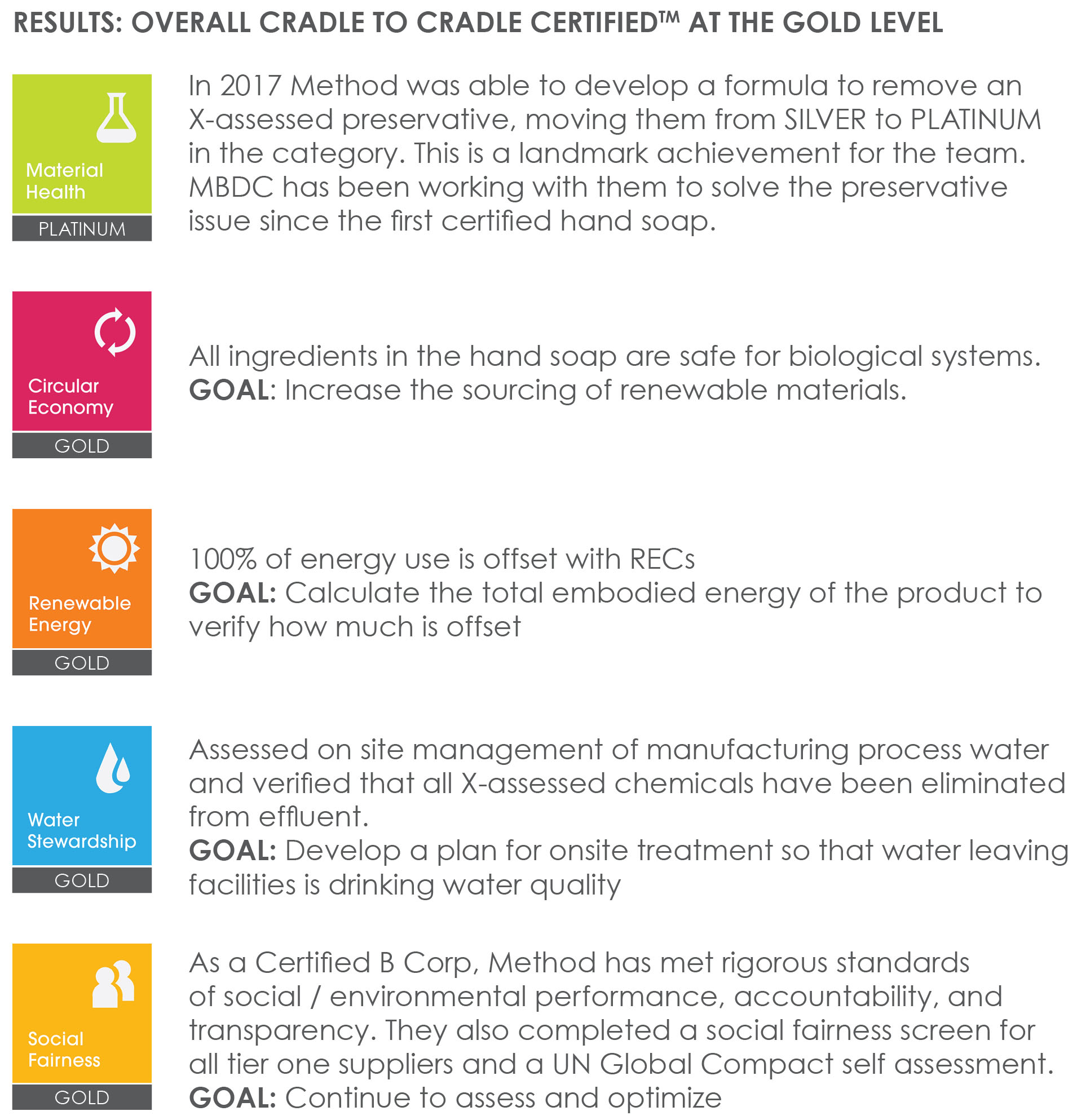 Case Study 2: The world's first C2C Certified Dryer Sheets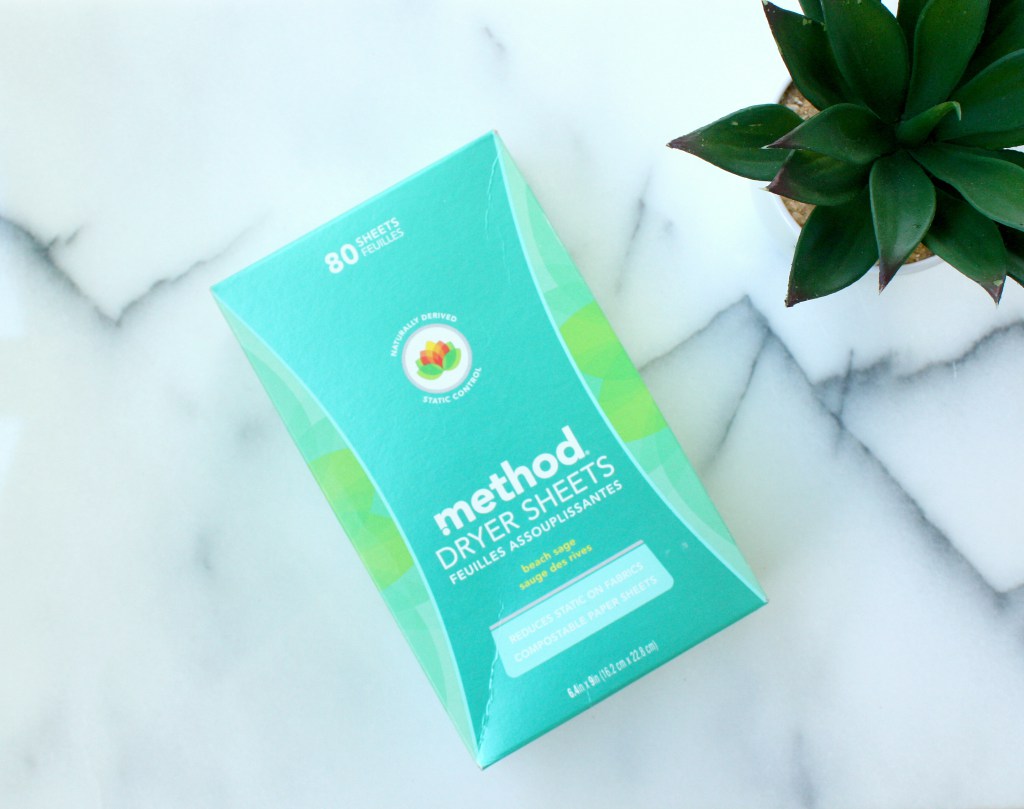 About the process:
The new dryer sheets are made in the USA and come in two fragrances, Ginger Mango and Beach Sage. MBDC visited the manufacturing facility where the products are made in order to start the certification process. By observing the product production, MBDC assessors were able to verify water and energy data according to C2C criteria.
What's Next?
Since this is the initial certification for this product, MBDC will continue to work with Method as they reformulate and optimize. Method has set goals across all categories to improve the product rating by the time they recertify.