What is Cradle to Cradle Certified

TM

?
The Cradle to Cradle Certified™ Products Program  is the world's most advanced, science-based standard for designing and making products for the Circular Economy. It acknowledges continuous improvement and innovation of products and processes toward the goal of being not just "less bad" but also "more good" for people and the planet.
The certification program is based on the Cradle to Cradle Design™ Framework, which has been developed and implemented by MBDC over the past two decades. MBDC created the certification program in 2005 to recognize achievement in applying Cradle to Cradle Design principles. In 2010, MBDC donated to the Cradle to Cradle Products Innovation Institute an exclusive license for the certification program and methodology, and the Institute now administers the program and manages the Product Standard as a third-party, nonprofit organization.
Cradle to Cradle CertifiedTM Products 
Products or materials from any industry or country are eligible to apply for certification. Since the program began in 2005, there have been over 600 certifications from companies in 30 countries. Certificates have been awarded in a variety of categories, including building materials, interior design products, textiles, fabrics, cosmetics, home care products, paper, packaging and polymers. 
Levels of Achievement
The Cradle to Cradle Design framework has outlined a vision to guide product design and manufacturing, and the certification program recognizes multiple levels of achievement towards that vision. Under Version 3 of the program, there are five levels of product certification: Basic, Bronze, Silver, Gold, Platinum. In order to be certified at a certain level, a product must meet the minimum criteria for that level in all five criteria categories. The criteria in each category becoming increasingly demanding with each level of certification.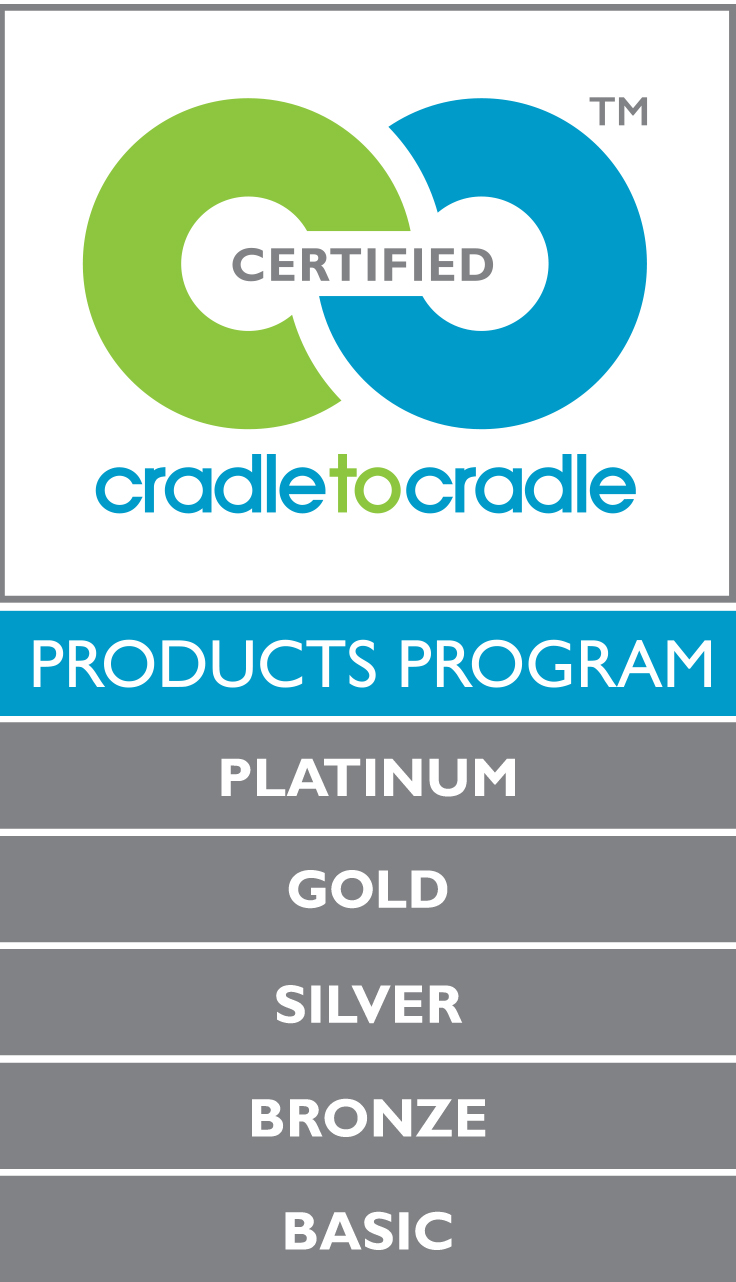 We start your product on a path of continuous improvement across five categories

Benefits of Cradle to Cradle Certified™ 
Cradle to Cradle CertifiedTM is more than a recognized mark of product quality; it is a process that leads companies to make better products, better companies and better communities.
Results of the Certification Process
Benchmarking of a product's design for safety to human and environmental health, sustainability of manufacturing processes and future use cycles 
Defined trajectory for optimizing product design and manufacturing processes
Expert evaluations of product ingredients throughout the supply chain for toxicity hazards and risks in context of use   
Third-party assessments that can provide data to verify claims about your products, to meet regulations or to contribute to other certifications 
Advantages of the Cradle to Cradle CertifiedTM Program
Joining a community of innovative companies that make certified quality products and that use the power of business to provide social and environmental benefits in the circular economy
Use of the Cradle to Cradle CertifiedTM marks on product packaging and marketing materials to indicate commitment to continuous improvement and total quality
Recognition in green building certification programs (USGBC's LEED V4 Rating System, BREEAM-NL 2014 v1.0) and preference for use in certain Cradle to Cradle-inspired buildings, communities, and developments, including Park 20|20 in the Netherlands 
Becoming "products of choice" for numerous environmentally preferable purchasing programs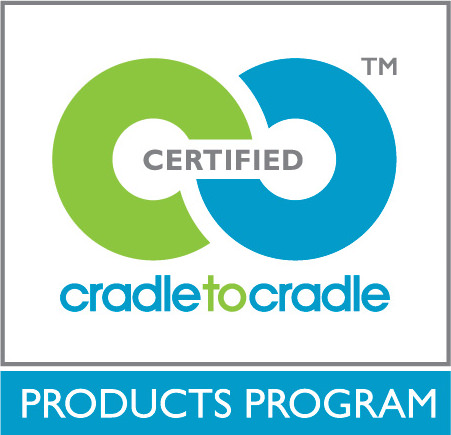 We Help you get your product cradle to Cradle Certified

TM

Step 1: 
Confirm your product is appropriate for certification
Step 2: 
Select MBDC as your assessor for testing, analysis and evaluation of your product
Step 3: 
Work with MBDC to compile and evaluate data 
Step 4: 
Receive certification for your product
Step 5: 
Report your progress
What's in your product?
What's Next After its use?
What Resources does it take to Make?
Get on the path to a sustainable circular economy with the creators of Cradle to Cradle®  and contact us today about any of these services:
1. Request a Product "Quick Scan" for Cradle to Cradle® potential:
Using this form, send us an inventory or Bill of Materials for the product(s)
Whithin 7 business days, you will receive Quick Scan Report and review with an MBDC project manager
2. Ready for Certification? Request Product Certification at BRONZE, SILVER, GOLD or PLATINUM level
If needed, we will help you optimize your product(s) to achieve your preferred certification level
3. Looking for validation on your product's material health qualities but not ready for C2C Certification? We offer product Material Health Assessments (MHA) and certificates:
Send us an inventory or Bill of Materials for the product(s) using this form
After reviewing all of your product's ingredients we will send you a MHA Report and MHA Certificate
The MHA Report and Certificate can be applied to the Material Health criteria for Cradle to Cradle Certification when you're ready to take the next step
Contact us today to see if your product qualifies for Cradle to cradle Certification: