MBDC recently returned from Sustainable Brands '19 in Detroit, which took place last week. The annual conference brought together business leaders focused on chemistry, circular economy, energy, finance and communications/marketing with the mission of obtaining The Good Life. The Good Life directly corresponds with MBDC co-founder William McDonough's Five Goods: Good Materials, Good Economy, Good Energy, Good Water and Good Lives which aim to create not only less bad but also more good.
Kicking off the conference on Tuesday, McDonough presented a bold new vision for the collection, processing, circularity and productivity of plastic. McDonough's outline for a circular plastics system is based on the fundamental guidelines of Cradle to Cradle Design™ for the Circular Economy to create a world beyond the concept of waste. McDonough directed the audience to "refuse refuse," or, in other words, reject plastics and packaging that are not reusable, compostable, recyclable or recoverable.
Cradle to Cradle Design was also center stage as MBDC announced a collaboration with Toxnot, an industry-leading technology company which provides an efficient system for manufacturers to gather supply chain data, gain insight into their hazard profiles, report on the results and create safer products. Joint efforts between MBDC and Toxnot seek to increase traction for safer, healthier products across global supply chains through Cradle to Cradle Certification™.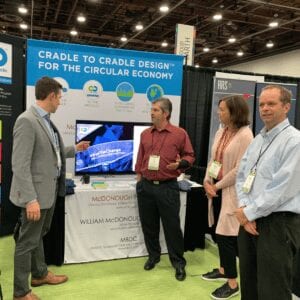 "Disclosure of ingredients for products and materials does not always equate to reduced harm for human and environmental health," said Jay Bolus, President of MBDC. "Our collaboration with Toxnot will provide manufacturers a trusted way to communicate their work toward safer and healthier materials, because the ingredients will have been fully assessed for Cradle to Cradle Certification – while keeping their proprietary formulas secured. This is optimized disclosure for consumers and industry alike to truly further transparency for material chemistry."
The MBDC team – along with colleagues from sister companies, McDonough Innovation and William McDonough + Partners – welcomed clients, friends and curious minds throughout the week at our booth in the Innovation Expo hall. The booth featured a selection of Cradle to Cradle Certified™ products including Shaw carpet tile, C&A T-shirts and jeans and Henry Rose fine fragrances.
To learn more about Cradle to Cradle Design™ or how to get on the path to certification, contact us.