Herman Miller's dedication to doing more good extends beyond their adoption of Cradle to Cradle Certified™ to their "Greenhouse " Factory and Offices in Holland, Michigan designed by William McDonough + Partners. The first product designed from the beginning to end under the Cradle to Cradle Design™ protocol was the Mirra chair. This innovation resulted in Herman Miller's commitment to designing Cradle to Cradle Certified™ products and securing brand recognition as a firm deeply involved in sustainability.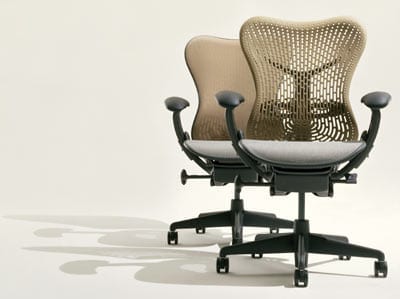 Clean Air & Climate Protection
100% of Herman Miller's energy is from renewable resources.
Material Health
The Aeron chair's fabric reaches Gold Material Health requirements, and all ingredients are healthier for human and ecological health.
Product Circularity
Herman Miller designs with recycled or bio-based materials to be part of a closed-loop recycling system.
Water & Soil Stewardship
By 2023, Herman Miller plans to reduce water consumption related to production by 50 percent.